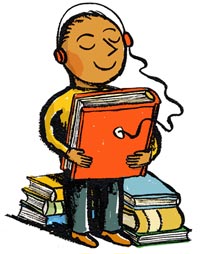 While the masses move on to Kindles and electronic reading devices, I dip my toe into the world of audio books. Now that I've found this wonder land, I'm finding there are pitfalls – books and voices that don't invite me in quite as completely and delightfully as Devina and Diana Gabaldon's Outlander series – my most favorite audible books. Thankfully, on Audible.com I can pre-listen to an excerpt to see if the book, reader and I are compatible. Almost like that E-Harmony dating service – or so I've heard.
Perhaps I am a purist, but I only want to listen to unabridged books, which means not a single word has been omitted. The abridged versions may be fine, but not for me. And as a writer, I would like to think that what I write requires every word I've included. If in doubt who to listen to, check out the awards list. Yes, in addition to Emmys and Edgars, Golden Globes and Tonys, there are Audies – awarded by the Audio Publishers Association. The 2008 winners list offers an opportunity to read an excerpt and of course listen as well. Audio File Magazine offers reviews as well as excerpts. And several members of IWW offered their suggestions on the Writing List.
Of course you can listen to them anywhere now that Ipods and MP3 players are the norm. Downloads of audio books are readily available. In your car, on a walk, in a plane, or while munching celery stalks (poetry is not my forte) – you get the picture. One person suggested downloading several books on her electronic device, changing the titles so that censors and customs and border police can't discern that they are contraband and take them along on news assignments or vacation. Much lighter to transport than the paper and ink books. And obviously much easier to smuggle. Now, that's an aspect of audio books you may not have considered ….